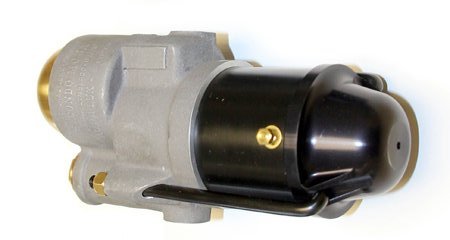 Autoflux Fuel Pump
Cosmetically this fuel pump exactly replicates an Autoflux electric fuel pump as fitted to many performance vehicles from the 1930s through to the 1950s including the Alfa Romeo 2900, Maserati A6GCS. The body is cast in aero grade aluminium and many of the original design features are retained.
The pump is a direct replacement for an original pump using the same mountings, wiring and plumbing fittings.
Internally the pump uses an extremely reliable modern impellor type pump and incorporates a replaceable filter element. The sealing is also vastly improved compared to the original design ensuring a far safer product.
The pump is rated to 75 litres / hour and has an integral fuel regulator that can be adjusted on the car to give pressure between 1 and 7 psi.
The pump is an excellent upgrade for any vehicle still running an original pump or as a period upgrade for vehicles with mechanical or autovac systems looking for more reliability, performance and safety.
Pumps are supplied with full installation instructions and are suitable for any 12 volt negative earth system. Positive earth can be supplied by special order.